After some extended time of prayer yesterday, I realized that I hadn't been spending enough time reading Scripture or praying.
Since I started a new job a few weeks ago, I've been pretty busy. I'm still trying to do the same amount of things I did before, but with 9 less hours a day to get it done. At least I don't have to work weekends!! Thank God for that- but I have to focus more to get the same amount of stuff done.
God brought to my mind the fact that in September, we're going to be helping launch a new church campus here. And He (ever so gently) reminded me that I need to focus on preparing for that, to which I replied "God, what can I do to more fully focus on this new church plant?" to which He replied "you don't really need to be on social media, now do you?"
*Gulp.*
"God, do You mean Twitter, Google+, Facebook, Gab.ai, and internet forums? Those social media sites?"
Yeah, those.
So, I'm going to be taking a (mostly) sabbatical from social media in order to focus on the task God has laid before me.
"Therefore, since we have so great a cloud of witnesses surrounding us, let us also lay aside every encumbrance and the sin which so easily entangles us, and let us run with endurance the race that is set before us, fixing our eyes on Jesus, the author and perfecter of faith, who for the joy set before Him endured the cross, despising the shame, and has sat down at the right hand of the throne of God. For consider Him who has endured such hostility by sinners against Himself, so that you will not grow weary and lose heart." Hebrews 12:1-3
I won't completely isolate myself from social media (and I'm not even sure that's possible in this day and age) but I'm severely scaling back my time spent there. I don't need to have news stories, drama, stupidity, and whatnot distracting me from my purpose. Yeah, there's plenty of encouraging things I see there too, but I have almost no way to filter that, thanks to Big Social's inability to discern what's good and what isn't.
In the meanwhile, I'll be able to work on music, prayer, and writing. This is probably for the best all around. I'll post updates here as things go, so stay tuned!
Related
Sections
Categories
Tag Cloud: It Gonna Rain
Support Digital Freedom!
Not Entirely Unlike Chiptune
#BikeCommuterCabal
The Sinfonia Foundation
Hate The NSA? Start Here!
Upgrade!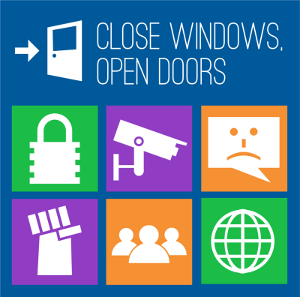 NaNoWriMo
The Way-back Machine